About What Remains of Her
• Paperback: 416 pages
• Publisher: William Morrow Paperbacks (July 24, 2018)
From the New York Times bestselling author of The Silent Girlscomes this chilling, harrowing thriller set in rural Vermont about a recluse who believes the young girl he's found in the woods is the reincarnation of his missing daughter, returned to help him solve her and his wife's disappearance.
I won't say a word. Cross my heart and hope to die…
Jonah Baum, a professor of poetry at a local college in Vermont, sees his ordinary life come tumbling down when his wife and young daughter vanish from their home. No evidence of a kidnapping. No sign of murder. No proof that Rebecca didn't simply abandon her marriage. Just Sally's crude and chilling drawings, Jonah's little lies, and the sheriff's nagging fears that nothing is what it seems.
For Sally's best friend, Lucinda, it's something else. She trusts in Sally not to just disappear, not after they've shared so many secrets—especially about the woods and what they saw there. But she'll never tell. No one would believe her anyway.
As the search for Rebecca and Sally intensifies, and as suspicion falls on Jonah, the disappearances become more relentlessly haunting than anyone can imagine. Because what's seen in the light of day is not nearly as terrifying as what remains hidden in the dark…

Purchase Links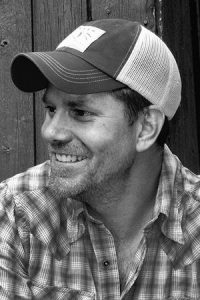 About Eric Rickstad
Eric Rickstad is the New York Times, USA Today, and international bestselling author of The Silent Girls, Lie in Wait, and Reap, novels heralded as intelligent and profound, dark, disturbing, and heartbreaking. He lives in his home state of Vermont with his wife, daughter, and son.
Find out more about Eric at his website, and follow him on Twitter and Facebook.
[I recieved a copy from @williammorrowbooks and @tlcbooktours for an honest review]
What Remains of Her by Eric Rickstad captured me right from the beginning and didn't let me go. I still can't stop thinking about that ending, how I never saw it coming and how it broke my heart. I love Eric Rickstads writing. You really get to know each character and form a bond with them, whether they are an adult or child. He has such a great way of making their emotions and fear almost tangible.
What Remains of Her deals with the disappearance of a wife and daughter. The reader watches through Jonah,the husbands, eyes as he watches his world crumble. As the reader you know he's innocent but can't help but be beaten down along with him as everything makes him look guilty. At the same time we see a young girl, Lucinda, lose her best friend and feel stuck and hopeless. The story then jump to 25 years later and finally learn answered to the questions long unanswered.
I highly recommend What Remains of Her by Eric Rickstad to all my fellow psychological thriller fans!
5/5🌟